SHAKA
Shaka
BIS, BISS Am, PR, Inter, Mex, World Ch Fracasse de Lindeau, HOF,ROM, ROMP,HIC,TT,TDI,CGC, RassSelect*
Bred by Rob Ferber and Linda Wells Of Lindeau Briards
Ch Votre Magic Marker de Lindeau x Ch Dakar du Chemin des Rocialles
Shaka finished his AKC Championship owner handled by Rick. It was an achievement to finish a black Briard in the area at the time, and it was an indication of things to come. Later, as a mature Briard, Shaka and his beloved handler Martin Cabral made Briard history. During his stellar show career, Shaka won 3 National Briard Club of America Specialties, retiring the Briard Club of America's Challenge Trophy from the Veteran Class. He won so many Briard Regional Specialties we have lost count. With over 150 AKC group placements, and an FCI Best In Show, Shaka was also the first black Briard to get an AKC Best In Show. Shaka won the Pedigree Award in 1995, as the top Briard in the country.
At the World Show, he earned the coveted title, World Champion. As icing on the cake, he placed 3rd in the Pastoral Group, we believe this is one of the only times a Briard has placed in Group in a World show. His quality was recognized around the world.
During his life. Shaka sired over 25 black champions, as well as many with obedience and agility titles. His daughter Page is the first Briard in the history of the breed to earn a OTCH. His children include Specialty winning, Obedience titled, Group winning/placing Briards. His grandson Boston carried on Shaka's tradition by winning the BCA National Specialty in 2005. His Granddaughter Anka won the French National in 2006. She went on to obtain the, coveted title of French Champion, she was undefeated in France. She is the second American born Briard to win the French National, and the second American bred to attain the title of French Champion …what an honor! As a side note the first is her grandmother Layla.
Shaka was much more than a show dog and a sire. Hopefully every dog owner is lucky enough to be blessed with a "once in a lifetime" dog… this was our Shaka. This black ball of fur was born in Michigan during the Gulf war . He came to us, a family that "would never have a black", and oh how he changed our lives!
Shaka was a very active puppy who really believed that now that he was here, the world was complete. As a puppy he greeted everything and everyone with a leap and a smile…he would leap in your arms… give you a very big kiss…and be off to bestow his presence with someone else. He would pull pots and pans from cupboards and drop them, he liked the noise. He was not happy the day we discovered child locks for cupboards!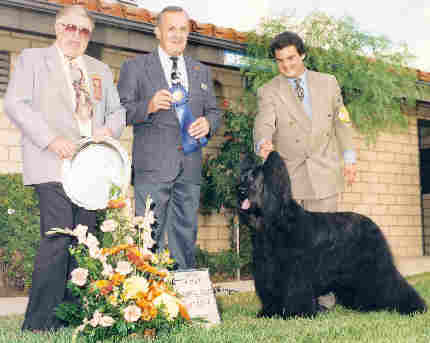 His appetite was legendary...a trait that he showed very young. I will never forget the day that I walked into the kitchen and pulled Shaka out of a puppy food bag. At about 13 weeks old he got into the food and was determined to "finish the bag"! The 40 pound bag had been close to full before he started, and by the time I pulled him out - well, he looked like someone blew him up. The vet had a very hard time not laughing as he "assisted" in the removal of the huge quantity of food. Shaka was fed for much of his life from a muffin tin to slow down his eating, he so loved his food. In fact, his food ethic was so strong that he once tried to convince a lady friend that he could complete the "deed" and have a quick snack, all at the same time. His girl friend of that exact moment was not amused as she was "escorted" across the room to the food dish!
Shaka's temperament test was a wonderful example of his character. Rick and Shaka went to the testing site. Rick had never seen a temperament test, but it looked like fun. He and Shaka started the course, the wire pen, the gun shot, noise, hey, this is no big deal. When the aggressive stranger appeared Shaka positioned himself between the stranger and Rick, at the same time a dog fight broke out to the side of Rick. Shaka changed his position to put himself between Rick and the fighting dogs. The temperament tester later remarked that at first he did not realize what Shaka was doing, but when he realized that Shaka assessed the situation and deemed the dog fight more of a threat to Rick and positioned himself appropriately. He marveled at what a "magnificent" dog Shaka truly was. That was our Shaka………..
One of his other great loves was any orange traffic cone. Many Briarders can tell you stories of Shaka and his parking cones. Once leaving a benched show, Shaka grabbed a cone…now he did this in front of the police, who at first were a bit cranky about a big black dog stealing their cone. They watched as Shaka gleefully claimed his "prize", Shaka entered the hotel with that cone.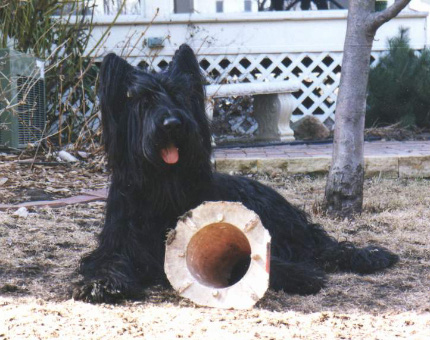 Shaka had a very strong sense of self. When Shaka walked into a room, or into a show ring, heads turned…this was a dog that would not go unnoticed. He, together with Martin, made Briard history…there were so many firsts. First black Briard to go FCI Best, first black Briard to go AKC Best, and he and Martin won more Briard specialties than any black Briard before or since.
And first in our hearts forever...he taught us the meaning of Briard…and forever changed our lives. Our hope is that everyone can experience that "once in a lifetime Briard", it will forever change you.
*What do all the letters mean?

AKC - American Kennel Club, the governing body of dogs shows in the US
FCI - Federation Cyanologue Internationale, the oversight body for dogs shows in every other country in the world.
BCA - Briard Club of America, the parent organization for the Briard in the US
BIS - Best in Show, awarded at an all breed show
BISS - Best in Show Specialty, awarded at shows of Briards only
Am. PR, Int, Mex, World - these are championships awarded in different countries, and by the AKC and FCI organizations. Shaka had American (AKC), Puerto Rican, International, Mexican, and World (FCI) championships.
HOF - member of the BCA Hall of Fame, earned by achievement.
ROM - Registry of Merit of the BCA, earned by siring Champions.
ROMP - Registry of Merit Performance of the BCA, earned by siring offspring who have earned working titles, such as in obedience or herding.
HIC - Herding Instinct Certificate
TT - Temperament Tested, a title awarded by the American Temperament Test Society, following a rigorous test.
TDI - Therapy Dog, indicating Shaka passed a test to determine if he had the capability to act as a therapy dog.
CGC - Canine Good Citizen, a title awarded by AKC
RassSelect - the highest possible rating, received from two European judges at the BCA Rassemblement.